We live in times where personal hygiene and temperature checks have become the norm. The process however sometimes can be quite intrusive…. using SANITEMP makes it so much simpler
Most systems, only come with either a temperature or a hand sanitizing station, our solution is to combine all 3 elements into a single and modular system. The other problem is that usually, it is very difficult to transport these systems around, many are bulky and require a dedicated power supply.
You can place SANITEMP almost anywhere, we recommend that you keep them at the entry and or exit points of your premises. You can further have a few free-standing units around the office which encourages users, to take their temperature regularly and to maintain clean hands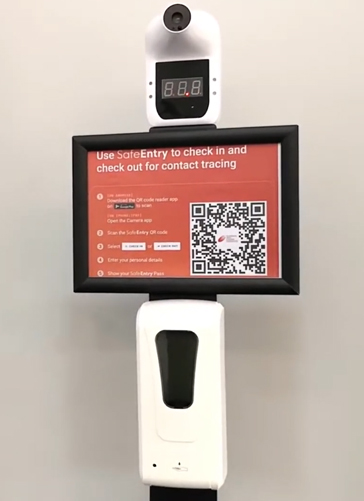 Thermometer Specs:
1. Automatic Measurement: measuring distance 5cm ~ 10 cm.
2. Screen : Digital Display.
3. Charging method: USB charging (18650 Li-ion).
4. Environment temperature : 10 centigrade ~ 40 centigrade.
5. Infrared measuring range:0 ~50 centigrade.
6. Response Time : 0.5 seconds.
7. Standby: Approximately 1 week.
8. Accuracy : +/-0.2 degrees (34~45 centigrade, place in the environment 30 mins before use)
Auto Dispensing Unit:
1. Dispenses Automatically (Blue Light Indicates dispensing is completed).
2. Capacity Of 1000 ml Of Liquid.
3. Dispensing Liquid of : 1.6 ml at a time
4. Battery Powered or Use DC power
Chemtron is aiming to provide an innovative solution to fight COVID-19 battle across Singapore, Malaysia, and Indonesia.
For more product information, demonstration, and price inquiries