Why is the Dexter Robotic Arm so special?

3D Printed
Dexter is mostly built using 3D printing. This means it has added benefits like, its highly affordable, highly customizable and also highly serviceable.

Force-sensitive
You can control the robot with your touch, this makes the robot friendly to work alongside humans. The robot can be stopped by inducing shock anywhere on the robot.

60 Seconds to train
No coding, no complex kinematic & no computer. You can train the robot just by moving it with your hands. Onboard storage can save up to 16 independent sequences.

Remote Control (Tele Operation)
Perform tasks remotely for efficiency and convenience from hundreds of miles away.
A single operator can control multiple robots performing tasks quickly and efficiently.

Easy Integration
Installing dexter is extremely easy. Mount the robot on stable platform and make sure it can reach its subject. Plug-in the robot and train it with your hands.

Open Source
 Dexter is ideal for schools, R&D projects, and academic studies. Hosted on Github, Thingiverse and moderated via Discord all assets are easily and freely accessible.
Find out more about Dexter Robotic Arm
Unlimited Applications
A robotic arm can do whatever our hands can but better. The use cases are endless.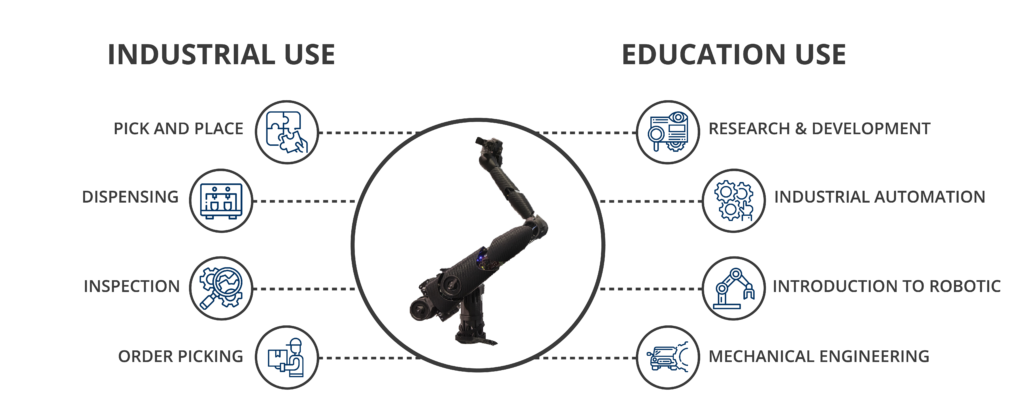 DEXTER DEVELOPMENT ENVIRONMENT
DDE allows user to program tasks & have precise control over Dexter's movements
Dexter's Specifications
The new Dexter HDI brings our award wining robot/cobot platform to the light industrial space with unrivaled precision and affordability.
| | |
| --- | --- |
| Standard Reach | 700 mm |
| Standard Payload | 3 kg |
| Total Robot Weight | 6 kg |
| Repeatability-Point & Path | 0.025 mm |
| Stepping Precision | 5µm |
| Power Cycle Repeatability | Automatic |
| Power Requirments | 40-100W |
| Solar Capable | Yes |
| Degees of Freedom | 7+ |
| Joint Ranges (DOF) | J1-365 degress, J2-200 degrees, J3-270 degrees, J4-240 degrees, J5-J6-J7-360 degrees |
| Joint Speed | 100 degrees per second |
| Tool Speed | 1.2 m/s |
| Duty Cycles | Light Industrial |
| Stored Program Repeatability | Yes |
| Vision System Capable | Yes |
| Control System | 200KHz FPGA |