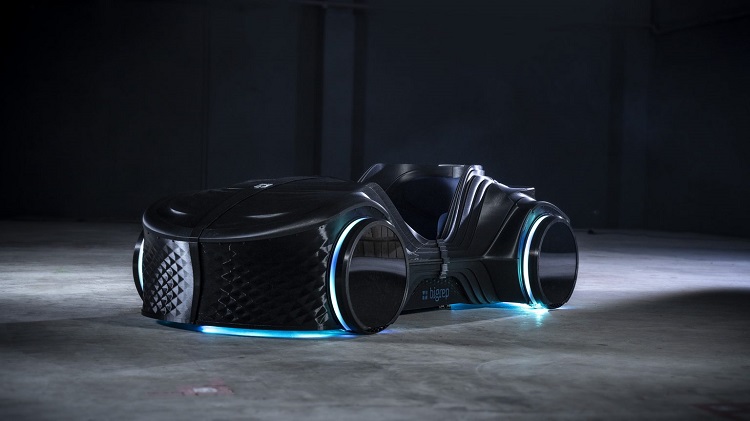 LOCI Autonomous Electric Podcar: The Next Big Thing in Additive Manufacturing
German engineered large scale 3D printer manufacturers, Bigrep has launched a fully 3D printed, Autonomous Electric Podcar, LOCI at Formnext 2019 event, which is the world's leading exhibition for additive manufacturing. At Formnext, Bigrep has showcased its full range of additive manufacturing solutions that is from rapid prototyping and design to functional end-use transportation that is created by Bigrep's high-quality german engineered 3D printer.
LOCI: Fully 3D Printed, Autonomous Electric Podcar
NOWLAB, The innovative consultancy at Bigrep has specially designed LOCI as a "Last Mile Transportation Solution" that can serve the urban environment which includes, airports, train stations, campus transport, local deliveries, and daily work commutes;
"LOCI is more than a vehicle, it's the evolution of personalized mobility," said NOWLAB co-founder, and BigRep CIO Daniel Buening. "LOCI is an affordable solution for urban transportation, harnessing the agility of additive manufacturing while also demonstrating the cost-efficient advantages of 3D printing for sustainable additive manufacturing such as manufacturing personalized products on-site and on-demand."
With LOCI, Bigrep has introduced entirely new possibilities in the design and production process of additive manufacturing; LOCI can be printed in small batches that reduce the lead time, cost of printing, and supplier dependency. It also eliminates the need for warehouse and remote production facilities, leading to a more sustainable additive manufacturing production process.
Bigrep has developed LOCI by utilizing parametric modeling that gives flexibility to the manufacturers to print the Podcar according to the given location or application; adjusting handling purpose, materials, structural properties, special tires for different terrains, custom branding, and integrated solar power.
At Formnext 2019, Bigrep has presented three different versions of LOCI
Berlin LOCI: This model presents a single-person campus commuter with a sleek design, touch screen media display, surround sound audio, wireless phone/device charging, integrated LED lighting, TPU airless tires, and embedded BigRep Part DNA technology.
San Francisco LOCI: It is a virtual concept version for urban commuting. Its narrow body can maneuver in traffic, a single right-side door lifts to cover exiting passengers from rain, and it has two passenger seats.
Dubai LOCI: This is a virtual concept version for airport transportation with a high-end luxury feel, solar panels, space for luggage, and rugged tires for desert weather.
LOCI is fully customizable. The customizable aspects include handling, materials, structural properties, tires, branding, and integrated solar power.
One of the most amazing features of LOCI is it uses BigRep Part DNA™ technology. This technology uses NFC chips embedded into 3D printed parts can be scanned using a mobile device to identify the part. Bigrep is also planning to integrate the sensors that will monitor the status of the part and notify about maintenance and replacement.
LOCI is built with just 14 unique parts, LOCI measures 85cm x 146cm x 285cm, with the largest part measuring 1000 x 600 x 700 mm. All parts were printed with a BigRep PRO, BigRep Studio G2, or BigRep ONE additive manufacturing system. The pod showcases the possibilities of 3D printing and engineering-grade filaments for industrial manufacturing. The body was printed with BigRep's PRO HT, for the airless tires designers opted for TPU, the bumpers were created with PLX, and beams and joints with PA6/66.
Industrial 3D-printed prototypes: Making manufacturing more efficient
Other than LOCI, Bigrep is also presenting NEXT AGV (autonomous guided vehicle), an autonomous transport system developed by BigRep and Bosch Rexroth, which are integral to agile, smart production.
Another BigRep prototype is the AIRBUS Investment Shipping Case, a fully 3D-printed solution for delicate equipment transportation.
LOCI at a glance
Technical Specs:
Overall Dimensions: 85cm x 146cm x 285cm
Number of parts: 14 main parts with additional inserts
Largest part: 1000 x 600 x 700 mm
Printed with BigRep PRO, BigRep Studio G2, BigRep ONE
Print Materials: Body: PRO HT / Tires: TPU / Bumpers: PLX / Beams and Joints: PA6/66
Additional Features:

Electric power / Touch screen media display
Surround sound audio / Wireless phone/device charging / LED lighting / TPU airless tires
BigRep Part DNA™ technology
Ready to take the next step towards integrating additive manufacturing?