Da Vinci Professional 3D Printer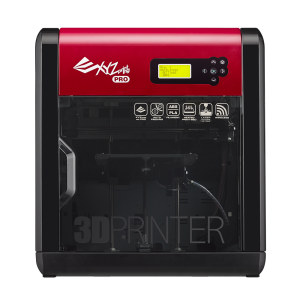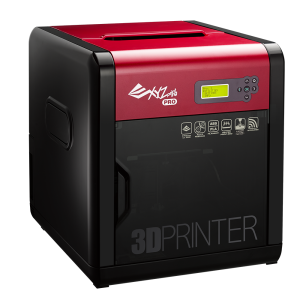 Product: 18.4 x 20 x 22 inch (46.8 x 51 x 55.8 cm)
Package Dimension: 22.1 x 23.3 x 27.6 inch (56 x 59 x 70 cm)
Maximum Build Volume (WxDxH): 7.8H x 7.8W x 7.8D inch (20x20x20cm)
Gross Weight: 57.4 lb (26kg)
Technology: FFF (Fused Filament Fabrication)
Display: Panel Type – 2.6" FSTN LCM
Resolution:
Fine 0.1 mm (100 microns)
Standard 0.2 mm (200 microns)
Speed 0.3 mm (300 microns)
Ultra Fast 0.4 mm (400 microns)
Language: Multi Language
Connectivity: USB 2.0/ WIFI
Software: XYZware for PRO
Print Head: Single Nozzle
Nozzle Diameter: 0.4mm
Filament Diameter: 1.75mm
File Type: .stl , XYZ Format
OS Support: Win 7 and above / Mac OSX 10.8 and above.
Filament Material: ABS / PLA
Hardware: Hardware Requirements (for PC/Mac)
X86 32/64-bit compatible PCs with 4GB+ DRAM (for PC)
X86 64-bit compatible Macs with 4GB+ DRAM (for Mac)
Laser Engraving:
Maximum Build Volume: 20 cm x20 cm
Output Power: 350mW ± 10%
Wavelength: 450nm+5nm/-10nm InGaN
File Types: JPG / PNG / GIF / BMP
How the Da Vinci Pro is Set Up and How it Functions
Da Vinci Pro Laser Engraving in Motion
Your Printer, Your Way – 
The da Vinci Pro allows you to adjust the temperature settings for the extruder nozzle and aluminum print bed which makes it compatible with third-party 1.75mm filaments. Select your favorite filament brand for the best 3D printing experience. The da Vinci Pro also has an auto-loading filament system that will ensure the filament is loaded correctly and ready for use. This 3D printer is the most versatile of its kind, providing different types of finishing quality while maintaining an unbeatable price.
Professional Print Preferences
The da Vinci Pro comes bundled with software that enables you to adjust multiple settings, such as speed, print support, and Retraction. By being able to provide settings for Retraction, you can print objects without any streaking or smudges that occur when the extruder moves across the print – ensuring that your prints come out perfect every time!
Quality You Can Print On –
The new aluminum print bed makes for a durable heating surface that rapidly distributes heat evenly and decreases the chances of print warpage better than the common glass print bed. Simply cover the bed with masking tape, adjust the heat setting appropriately, and watch your prints stick to the print bed effortlessly.
Frustration-free Calibration –
The da Vinci 1.0 Pro has a new and intuitive calibration system that uses specially designed knobs and detection software that guides you in the right direction! Follow the instructions as they appear on the screen and turn the knobs accordingly for an easy calibration experience.
Connect from Anywhere in your Home Network-
The da Vinci 1.0 Pro has Home WiFi connectivity! The Pro is perfect for Makerspaces since it allows you to wirelessly send print jobs from anywhere in your home network by using Windows and Mac computers, as well as the XYZgallery app available on Android devices. Send your own designs from your computer, or access the thousands of 3D models available in the XYZgallery app from your Android device. Your printer, your choice!
Engrave Your Way-
The da Vinci Pro has an optional laser engraver add-on that will allow you to etch your own creative path on various materials such as wood, leather, and cardboard.
For more information on what we do and the to understand the complete range of products we carry please check us out at https://www.chemtron.asia/
Feel free to drop us an email at info@chemtron.asia or call us +65 6273 7252 if you have any queries.