Association of Orthodontist (Singapore Congress) (AOSC)
Chemtron and Envisiontec will be at the Association of Orthodontist (Singapore Congress) (AOSC) at the Marina Bay Sands from Feb. 24 2017 to Feb. 26 2017 to showcase the best in 3D printing for Orthodontic appliances, surgical drill guide, night guards, bite splits, clear aligner, denture bases, crown and bridge waxups, temporaries and partial dentures.
Chemtron will be showcasing the Perfactory VIDA machine at the upcoming show. The Perfactory Vida is a low-cost, open-architecture, easy-to-maintain and user-friendly 3D printer for dentists, orthodontists, and digital dental laboratories.
The Vida boasts a high-resolution projector running at 1920 x 1080 pixel resolution with custom UV optics. Once the print job is preprocessed on a computer housing the Perfactory software suite, it is transferred to the machine via Ethernet or USB and can run independently without the need for continuous connection to the preprocessing computer.
The surface quality of the printed models allows for production with no signs of stairstepping, unlike the visibility when using competing technologies. The versatility of the Perfactory Vida allows for an impressive range of materials to be processed, giving dental labs and practices the ability to 3D print multiple types of dental models, surgical guides, bite splints, night guards, retainers, dentures and crowns.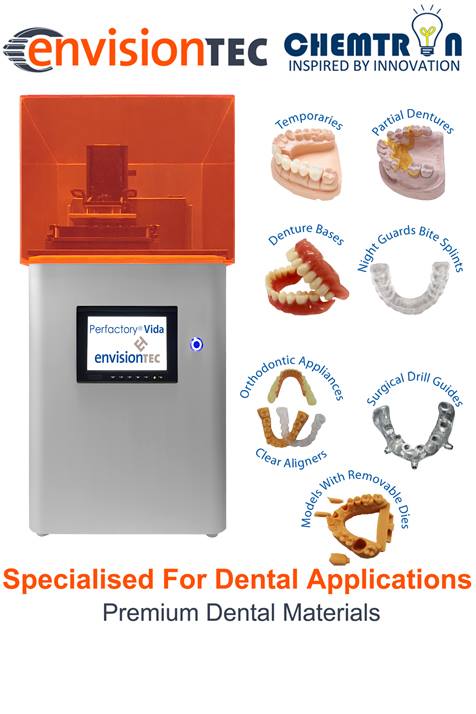 Benefits of the Perfactory Vida:
Compatible with 3Shape, Orchestrate 3D, Dental Wings and Exocad design software
Any STL file of a model designed from an impression or an Intra Oral Scanner can be printed

Capable of printing orthodontic models, partials, surgical guides, and bite guards

Changeover between materials is quick and easy with no waste

Plug and play with an easy to use software interface

Very few moving parts guarantees a strong and reliable production system
Specifications:
Footprint (L x W x H): 15.55" x 13.75" x 31" (39.5 x 35.0 x 78.7 cm)

Weight: 75 lbs (34 kg)

Data Handling: STL

Warranty – 1 year

Build Envelope: 5.5" x 3.1" x 3.95" (140 x 79 x 100 mm)

Projector Resolution: 1920 x 1080

Native Pixel Size: 0.0029" (73 µm)

Dynamic Voxel Resolution in Z**: 0.001" to 0.006" (25 µm to 150 µm)
Materials:
E-Appliance M

E-Denstone Peach M

E-Guard M

Clear Guide M

E-Partial M

Ortho Tough M
Visit our Showroom today to see this machine live in action.