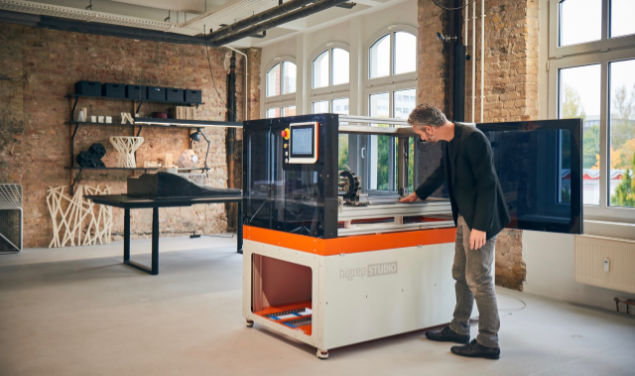 Etihad Airways Engineering Installs BigRep Large-Scale 3D Printer
Etihad Airways Engineering to install large-scale 3D printer BigRep ONE to print parts and tooling, followed by a next-generation BigRep EDGE industrial 3D printer to develop, test, and certify material for aircraft parts.
Etihad Airways Engineering has announced that the airline MRO will deploy BigRep 3D printing in their day to day operations. BigRep is a global leader in large-scale 3D printing. Etihad Airways Engineering will use the BigRep One 3D printer in its maintenance, operations, and repair facility at the Etihad home base in Abu Dhabi. The printer will be used in daily operations to print jigs, fixtures, and (non-flying) parts on-site and on-demand.
The partnership between BigRep and Etihad will be followed by deploying the BigRep EDGE, the next-generation industrial 3D printer. It aims at jointly developing, testing, and certifying new materials for 3D-printed aircraft cabin parts. With the introduction of the new industrial 3D printers, BigRep Pro, and EDGE, the company is moving forward to the production of end-use parts for the aerospace industry.
Bernhard Randerath, Vice President Design, Engineering & Innovation of Etihad Airways Engineering says: "We are at the forefront of bringing this exciting technology into aviation and will work with our partners to ensure a successful certification of 3D printing technology, and with it towards the vision of a 3D-printed cabin."
Stephan Beyer, CEO of BigRep GmbH, says: "Thanks to our 3D printers, we will accelerate the use of Additive Manufacturing in the aviation industry. With the BigRep PRO and EDGE, we will be able to unfold the full potential of our technology, together with Etihad Airways Engineering. These machines offer an unprecedented level of precision, quality, and speed, and enable us to use the high-performance, innovative printing materials the aviation industry requires."
Etihad Airways Engineering is a leader in innovation. It will leverage its experience around the aircraft cabin and will provide its design organization approvals, as well as production organization approvals and in-house flammability lab to test the 3D printed parts. In particular, BigRep large scale 3D printing technology is helping Etihad Airways Engineers in large cabin parts with the possibilities of high-level customization which is one of the most challenging requirements in the airline industry.
Besides, the aim is to jointly develop and test new material grades following EASA and FAA criteria, as there is a need for a wider spectrum of AM-suitable polymer materials that can pass the aerospace certification process.
Ready to take the next step towards integrating additive manufacturing?