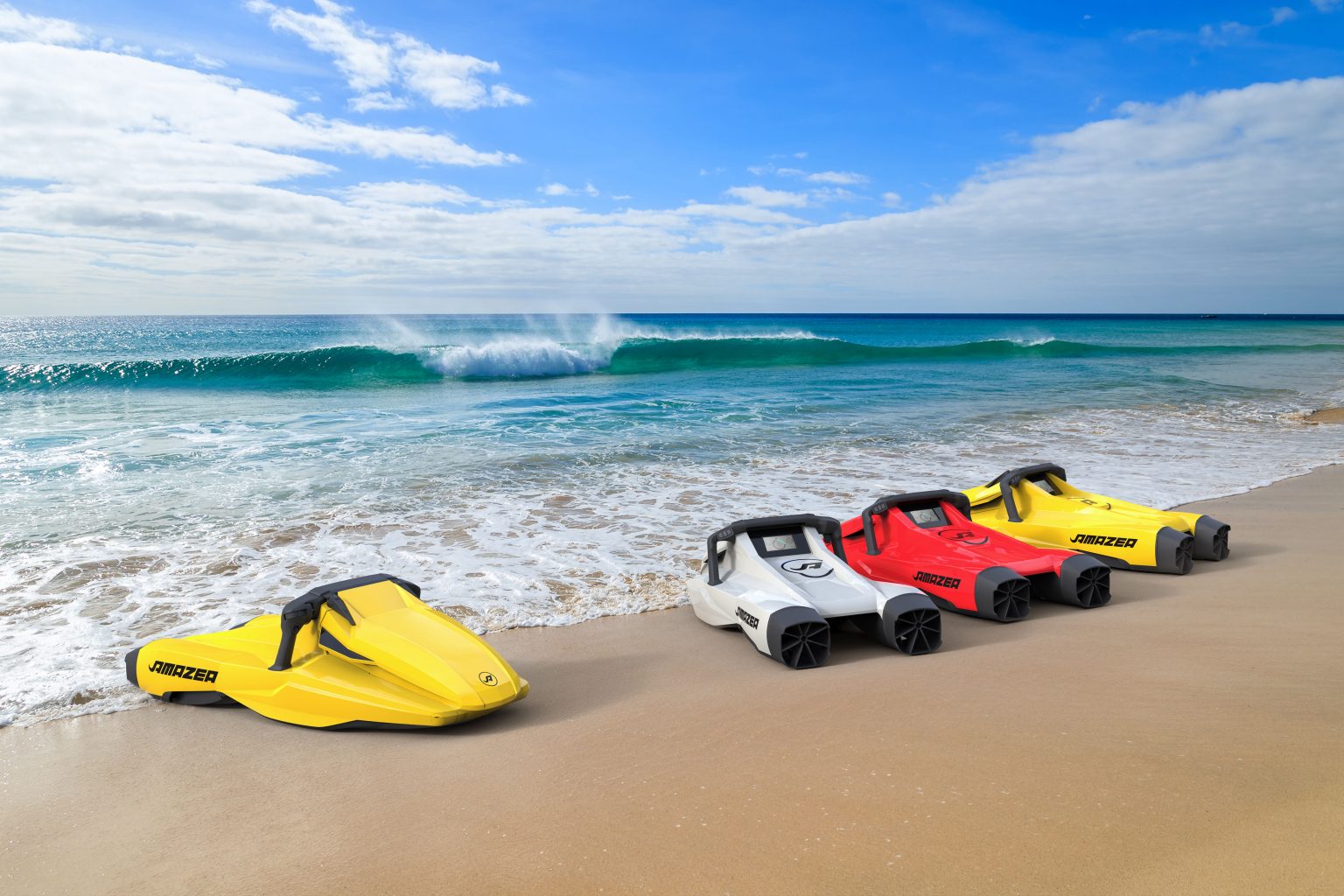 AMAZEA Underwater Scooter, serially-produced with BigRep 3D Printer
The AMAZEA from Germany based JAMADE is a consumer underwater scooter mobility device whose 75% of parts have been 3D printed. This is for the first time a consumer water mobility device will be 3D printed with serial-produced, custom 3D printed parts. The AMAZEA scooter's body and front parts are being produced on three BigRep ONE large-format 3D printers using BigRep's engineering-grade materials. BigRep develops the world's largest serial production 3D printers, creating the industry benchmark for large-scale printing.
"AMAZEA is an industry-first breakthrough with the potential to redefine maritime vehicle technology and the consumer experience in water sports around the world," said JAMADE Managing Partner Janko Duch, who founded the company together with Martin Oser and Detlef Klages in July 2018. "We opted for the BigRep ONE due to its cost efficiency, accuracy, and quality when compared to the extremely high investment for traditional tools, particularly in the first year's lower quantity," the founders explained. German-based JAMADE is specialized in the development and manufacturing of e-powered water sports equipment for the end consumer market.
BigRep ONE, a large format 3D printer, provided high flexibility and speed, which helped JAMADE manufacture the world's first 3D printed scooter. BigRep's additive manufacturing technology also helped the company in making the development process much more time-efficient.
JAMADE started the production of the production process with a white paper and progressed through product development. The BigRep ONE 3D printer offered the company a big 1m³ print volume with unmatched cost efficiency, operational reliability, and excellent technical qualities during prototyping and producing serial end-use parts. JAMADE uses BigRep's Pro HT filament for printing the parts of AMAZEA as it is suitable for marine environments with a softening resistance up to 115 °C, which offers a significant increase in temperature resistance, as well as minimal warping and shrinkage. Pro HT also matches the environmentally friendly concept of the product as the filament is CO2 neutral and biodegradable under the correct conditions. Thus, making AMAZEA an environmentally friendly, emission-free, and low-noise method of exploring marine life without disrupting the eco-system.
"This scooter is a BigRep showcase of our digital solutions empowering production by leveraging the full potential of large-format 3D printers with high-performance filaments," says BigRep Managing Director Martin Back. "It also signifies the rapid progress of 3D printing into the serial production of consumer end products, opening a new dimension for AM in similar niche but high-tech markets as well."
AMAZEA is an agile underwater scooter based on the "catamaran principle" and replicating a dolphin's special body ergonomics that enable faster movement.
In terms of performance, AMAZEA is equipped with a BI electric motor powered by two motors and a rechargeable battery at the front of the scooter. It can reach 20 km/h underwater and 10 more on the water, and go down to a depth of 18 meters. Without the battery, the scooter weighs 25 kilos, making travel smoother and easier. It is also equipped with GPS to easily track its position in real-time on the dedicated application. Finally, thanks to the additive large-format manufacturing, AMAZEA is perfectly waterproof: by manufacturing it in one go, the company is freed from the constraints of assembly and therefore from the risk of leakage.
High flexibility, speed, time and cost efficiency, customization and operational reliability are among the benefits BigRep ONE 3D printer offers. Changes in size or shapes, and customer feedback or requests can go straight into the product. Large-format printing also ensures the scooter's water-resistance: If the front or body were assembled using several smaller parts, openings would be a potential risk for leaks.
Large-format 3D printing enabled the quick turnaround and quality needed for this first of its kind water scooter.
Ready to take the next step towards integrating additive manufacturing?