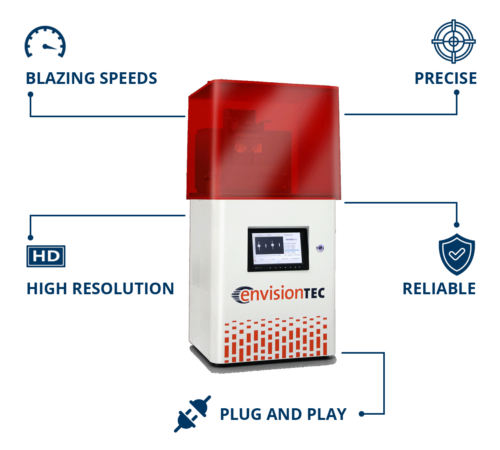 VIDA 
HD CDLM
EnvisionTEC 3D Printer with cDLM is the power of future 3d printing technology. EnvisionTEC's VIDA HD cDLM is one of the best 3D printer in Singapore for jewelry 3D printing. It makes it easier and faster for jewelry designers to design and make custom jewelry. VIDA HD cDLM ensures that only the best results are delivered. This jewelry 3D printer helps in designing software parameter optimization and delivering precise parts with less support.
The extreme versatility of 3D printers has opened up many creative possibilities. One such area is 3D jewelry printing. 3D printing is becoming the game-changer for the jewelry industry in Singapore. Additive manufacturing has numerous benefits, especially in terms of creativity. This technology enables jewelry designers to design complex shapes that are almost impossible to obtain using traditional manufacturing methods. Jewelry 3D printer also offers greater scope for personalization, satisfying consumers looking for new and original jewelry.
For more product information, demonstration, and price inquiries
Fill out the form and we'll get back to you as soon as possible.
Watch the video and get a glimpse of how leading jewelry manufacturers are using VIDA HD CDLM and taking their production to the next level..
Digital light manufacturing technology used in Vida HD cDLM provides a smooth surface and high resolution with lightning speed; EnvisionTEC's innovation of the cDLM 3D printer lessens the requirement for help structures during 3D casting which means no further manual casting is needed. Jewelry designer and manufacturer can now print Easy Cast 2.0 C for a smooth surface, high resolution, and accuracy with rapid production of a castable pattern without compromising on time and quality.
Chemtron provides a range of high-quality jewelry 3D printers in Singapore, Indonesia, and Malaysia that help bring precision to your workshop. Find out what best fits your requirement.