Markforged Real Life Application - THERMOSET MOLD
STRENGTH AND PRECISION— Humanetics uses a Markforged X7 to print molds for thermoset plastics.
EXTREME ENVIRONMENT — Each mold must withstand significant clamping force while heated to 220O F.
FAST LEAD TIMES — Onyx and HSHT printed molds replaced an inefficient, out-of-house silicone process.
MASSIVE SAVINGS — Humanetics prints molds 4x cheaper and 2.5x faster with Markforged technology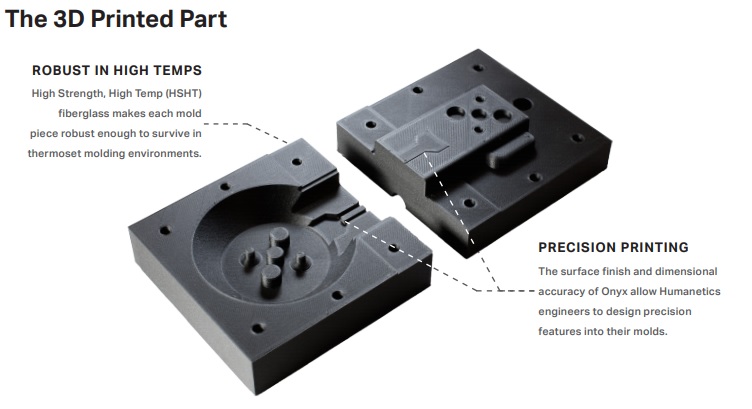 Next Day Molds
Molded thermoset plastics are widely used to take advantage of their strength and heat deflection temperatures.
The quick turnaround time, low production cost, and long lifetime of Markforged printed molds make them an excellent fit for replacing traditional thermoset molding methods.
Printed thermoset molds can withstand temperatures up to 302°F (150°C) for extended periods of time with minimal distortion.
Markforged Composite Printer in action
Contact Us
Contact us at info@chemtron.asia or call us at +65 62737252 for more information about the Markforged Composite 3D printer. Our team is ready to assist you with any questions that you may have about this printer.