Markforged Real Life Application - Soft Jaws
END OF ARM TOOLING — These jaws mount on a robot that transfers fittings between machining centers.
CHEMICALLY RESISTANT — Jaws must survive corrosive fluids while subjected to repeated clamping.
NEXT DAY TOOLS — With a Markforged Mark Two, Dixon Valve is able to retool a robotic arm in 24 hours.
MASSIVE SAVINGS — Dixon Valve achieved 30x cost savings and 14x time savings by printing these jaws.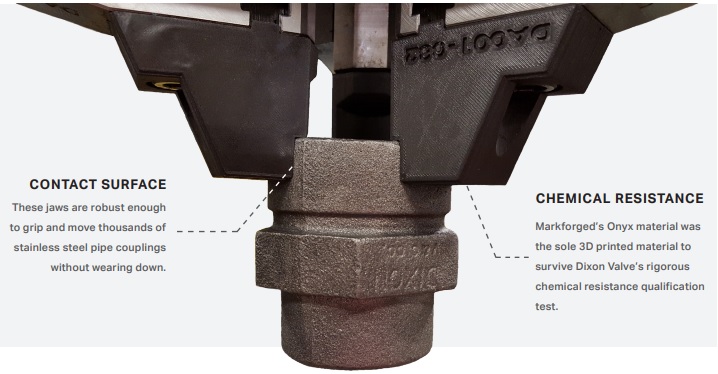 A New Paradigm
Markforged enabled Dixon Valve to produce new manufacturing tooling solutions faster and cheaper than ever before. System Engineer J.R. Everett describes the Markforged machines as "a critical component in our design process [that's] really changing the way we work to the point where we are actually altering our procedures and plans to accommodate it." With their Markforged machines, Dixon Valve engineers eliminated the need to outsource or machine in house the vast majority of their grippers.
Markforged Composite Printer in action
Contact Us
Contact us at info@chemtron.asia or call us at +65 62737252 for more information about the Markforged Composite 3D printer. Our team is ready to assist you with any questions that you may have about this printer.