Markforged Real Life Application - SEAWATER INTAKE
SEAFARING PARTS — MARTAC uses Markforged to print water intakes for autonomous aquatic vehicles.
VITAL COOLING — Each intake pulls seawater from outside the vehicle and uses it to cool the motors.
UNIQUE SHAPE — By using Onyx, MARTAC can design a geometrically complex, highly functional part.
MASSIVE SAVINGS — MARTAC prints intakes 30x cheaper and 18x faster with Markforged technology.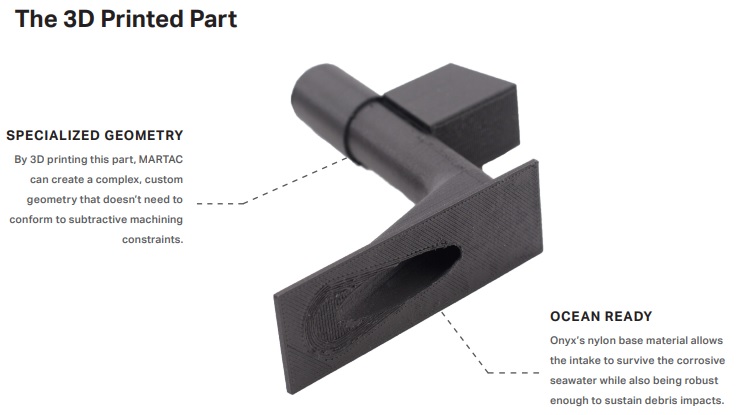 Ocean Grade Parts
MARTAC designs and manufactures high performance unmanned aquatic vessels. In order to cool the large motors on these vessels, they use complex intakes to route seawater through cooling channels. By printing these intakes, they drastically cut fabrication costs on what would be an incredibly difficult part to fabricate otherwise. Onyx is robust enough to survive both debris and corrosive seawater.
Markforged Composite Printer in action
Contact Us
Contact us at info@chemtron.asia or call us at +65 62737252 for more information about the Markforged Composite 3D printer. Our team is ready to assist you with any questions that you may have about this printer.