ABOUT CHEMTRON
Established in 1996, Chemtron has been continuously investing in new and innovative technologies. Along the way, our company has grown to provide multiple innovative ways to empower our clients with Additive Manufacturing – or 3D printing in Singapore, Indonesia, and Malaysia – and has successfully branched into robotics.
Our team of dedicated technical and application specialists provides 3D printers and robotics to our clients that include a wide range of industries including manufacturing, dental, orthodontics, jewelry, aerospace, medical, bio-fabrication, hearing aid, education, automotive, and more. Every single product we see on the shelves today was once a prototype designed in 3D and was more than likely 3D printed before going into production. Many companies are realizing the importance of having 3D printing technology in their organization and are adopting 3D printing today.
We provide a wide range of professional 3D printers and 3D printing services in South East Asia. Utilizing advanced Industrial 3D Printing technology, we produce high-quality parts in multi-materials and finishes with lead time as short as one business day. We also provide a myriad of 3D printing services as well and want to work with you to help your company adopt this cutting-edge technology. Our method includes, but isn't limited to, visiting and learning about your organization, providing consultancy, and seeing how your organization can benefit and implement this 3D printing technology seamlessly.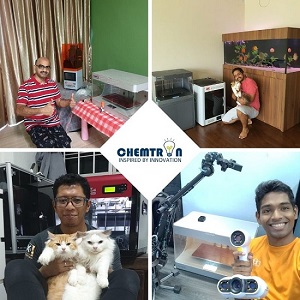 3D Solutions We Provide
The limits to the solutions we provide know no bounds. We sell various forms of 3D printers, scanners, and robotics equipment, and we are continually evolving with developments in the industry and leading with innovative technology.
3D Scanners
Thanks to the new handheld 3D Peel scanner, you can tackle more complex projects and take advantage of higher measurement resolution, color capture, enhanced tracking, and better geometry capabilities. It can handle plenty of different materials and surfaces and is extremely lightweight. It's a real-time solution for all your printing problems and helps you to reproduce each part accurately and precisely.
blank-text
Robotics
Our success in 3D printing allowed us to expand into robotics, and we recently introduced Haddington Dynamics Dexter – the award-winning 3D printed, low cost, and a high-precision robotic arm. Highly affordable, highly customizable, and highly serviceable, you can control this robotic arm with just one touch, making it perfect to work alongside humans. No coding necessary, you can train the robotic arm in as little as 60 seconds, only by moving it with your hands. Dexter is the perfect addition to any company.
3D Services We Offer our Customers
Chemtron also provides 3D printing services, 3D Computer-Aided Design (CAD) modeling and product design, 3D scanning, and 3D consultancy. Additionally, we sell a wide range of 3D printing materials, from filaments to polymer resins and more.
Our Promise to You
Over the years, we have worked with many different companies and institutions with their 3D printing needs. 3D Printing is a proven technology that has increased productivity and saved cost for thousands of customers. With the adoption of any new technology there comes teething issues and issues with implementation. This is where Chemtron steps in. We want to help our clients benefit from this 3D technology; hence we guide our clients step-by-step throughout the entire process. With our excellent service and outstanding post-sales, our customers have been able to leverage on this 3D technology without having to worry about service and support.
Chemtron Inspire by Innovation and At Your Service – ALWAYS!