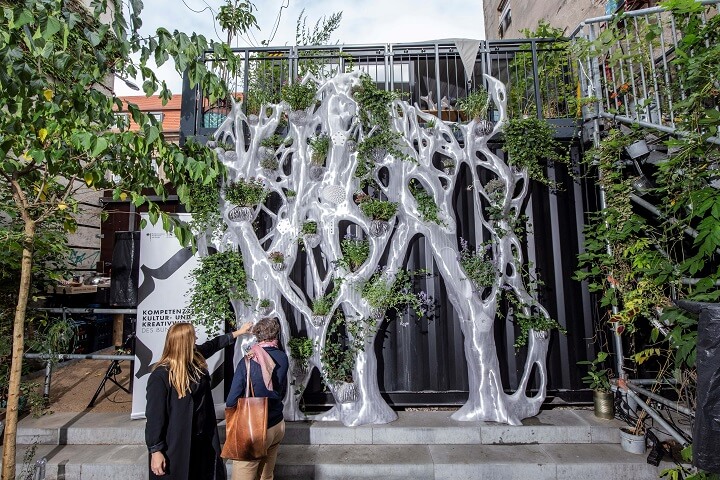 The GENESIS Eco Screen: A Fully 3D Printed Urban Ecosystem Making Cities Greener
We are already witnessing the observable effects on the environment, and especially manufacturing industries are leaving a massive impact on climate change. The waste of natural resources and the emission of harmful substances is a big concern in the manufacturing industries. Manufacturing industries have to adopt new techniques and technologies that are environment-friendly to overcome these problems.
Chemtron believes in being eco-friendly, protecting the environment, and manufacturing while saving our natural resources. We believe that 3D printing technology is the next big thing in the manufacturing process that can help us achieve the goal of producing and manufacturing without destroying;
How 3D Printing is making cities greener with 3D printed urban ecosystem
BigRep, the leader in large-format 3D printer manufacturers has launched the GENESIS Eco Screen, which will help tackle some of the world's biggest environmental challenges; BigRep has designed this model to demonstrate the environmental opportunities presented by additive manufacturing technology; Plastic recycling, wasted-water, and rapidly deteriorating biodiversity in urban settings are being fought with a groundbreaking prototype in urban architecture;
Lindsay Lawson, an Applications Specialist at NOWLAB, BigRep's innovation consultancy has designed The GENESIS, a fully 3D printed plant, and insect habitat. The GENESIS Eco Screen takes benefit of solar radiation examination for agent-based modeling and parametric design to create a computer-generated ultimate product with unique characteristics particular to its eco-system. The design creates a perfect shading option for vegetation, insect habitats, and an embedded channel for water flow.
Measuring an impressive 4 by 4 meters, the GENESIS Eco Screen is printed with BigRep PETG filament and BASF Innofil3D rPET made of 100% recycled PET on four large-format BigRep ONE printers. It is installed in Berlin, Germany at Invalidenstraße 86 where Germany's Federal Center of Excellence for the Cultural and Creative Industries (Kompetenzzentrum Kultur- und Kreativwirtschaft) hosted Fiction Forum on behalf of the Federal Ministry for Economic Affairs and Energy.
The GENESIS is the first big green revolution in 3D printing. This innovation by BigRep shows how additive manufacturing technology can help reduce plastic waste by closing the gap between resource input, waste, emissions, and energy usage, the circular economy is an important concept to reduce raw material consumption and divert useful materials from landfills. At Fiction Forum, where the GENESIS was printed live throughout August in Thaersaal, the active BigRep ONE printers were displayed with a Dual Axel Shredder, designed by Raw Paradise, to underscore the 100% recycled rPET filament being used and the potential for additive projects made using common PET waste.
Daniel Büning, a fellow of the Kompetenzzentrum and NOWLAB's Managing Director, lauded the innovation saying, "disruptive technologies such as 3D printing are key to solving some of the world's biggest problems. The GENESIS Eco Screen shows how society can develop a greener future – with circular economy solutions that are sustainable, local, modular and collaborative."
Ready to take the next step towards integrating additive manufacturing?