Markforged Real Life Application - 360 CAMERA FRAME
END USE PART — Radiant Images prints the entire frame of the AXA 360 camera rig with Markforged.
PRECISE FITTINGS — The frame consists of high strength polygonal brackets bolted together at an angle.
REPLACING METAL — The printed composite parts replace aluminum and are lighter and faster to produce.
MASSIVE SAVINGS — Radiant Images prints frames 3x cheaper and 4x faster with Markforged technology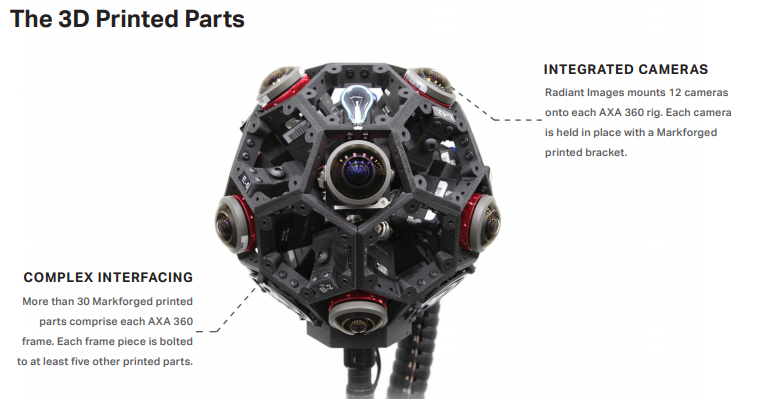 Multibody Construction
The AXA 360 camera system allows film creators to record seamless, high-quality, 360 degree video.
Before using Markforged, Radiant Images outsourced machined 7075 Aluminum frames — a process that was both slow and yielded a heavy rig. By printing the frame in-house out of Onyx and Carbon Fiber on their Markforged Industrial Series printer, Radiant Images builds lighter rigs faster than they could before.
Markforged Composite Printer in action
Contact Us
Contact us at info@chemtron.asia or call us at +65 62737252 for more information about the Markforged Composite 3D printer. Our team is ready to assist you with any questions that you may have about this printer.