Indirect Bonding Trays
Envisiontec one of the leading manufacturer of precision 3D Printers has recently introduced a new material that can print indirect bonding trays. They launched this material at the recent International Dental Show 2017 (IDS) in Cologne.
What is E-IDB?
The new material called E-IDB joins industry-leading dental library for production of dental and orthodontic models, castables, appliances and restorations. With this material, one can build highly precise and accurate custom trays. Its flexibility after printing allows for fast, accurate application of orthodontic brackets that can be release without much effort.
To top this off, this material can be printed quickly. One can print four indirect bonding tray in E-IDB in 45 minutes on an EnvisionTEC Vida 3D printer. Best thing of all, this new material requires virtually no post-processing.
"EnvisionTEC's flexible E-IDB material finally allows doctors to 3D print their own indirect bonding trays right in the office rather than rely on suppliers," said EnvisionTEC CEO Al Siblani. "This change gives clinicians more control over their trays, and how tight or loose they prefer them, as well as the entire treatment process."
About Indirect Bonding Trays
Traditionally, orthodontist would take about two hours to individually place the brackets on patient's teeth. Now with the help of indirect bonding tray, orthodontist will be able to take half the time as they would.
How is an Indirect Bonding Tray created?
A custom tray is first created in a digital environment to match a digital representation of the patient's mouth, making room for the specific brackets that should be adhered to each individual tooth. In fact, software to create indirect bonding trays locates the precise position on a patient's tooth to shorten treatment times. After 3D printing the tray, a technician places the individual brackets into the tray.
How is an Indirect Bonding Tray applied?
The custom 3D printed tray containing all of the brackets is then placed into the patient's mouth, quickly lining up brackets to the optimal position on each tooth. A UV light is then used to adhere the brackets to the teeth and the guide is removed, transferring all the individual brackets to the teeth.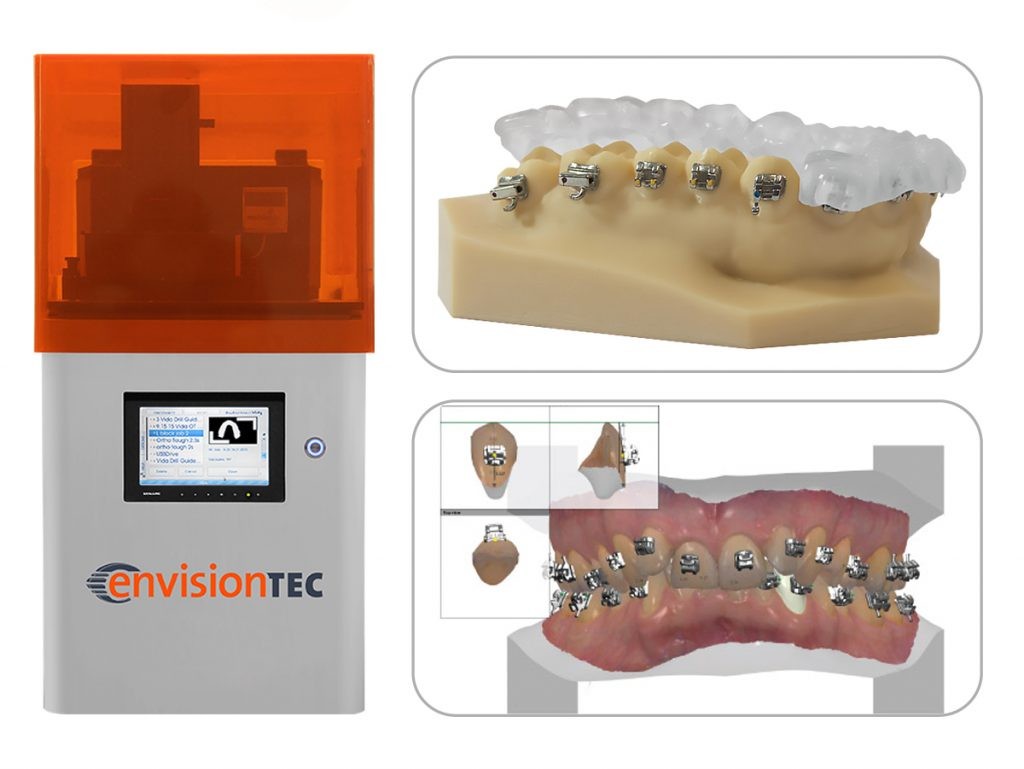 The EnvisionTEC Vida 3D printer for dental professionals, shown left, can now print indirect bonding trays for accurate bracket placement and easy release in EnvisionTEC's flexible new E-IDB material, shown top right. The technology works with Ortho Analyzer software, shown bottom right, from 3Shape, a global leader in 3D scanning and CAD/CAM solutions for the dental industry and an EnvisionTEC partner.
Contact us for a demo @ T: 62737253 E: info@chemtron.asia
Our address: Blk 203A Henderson Road, Henderson Industrial Park, #02-03 S(159546)
Watch the Perfactory Vida Machine in action in the video below!