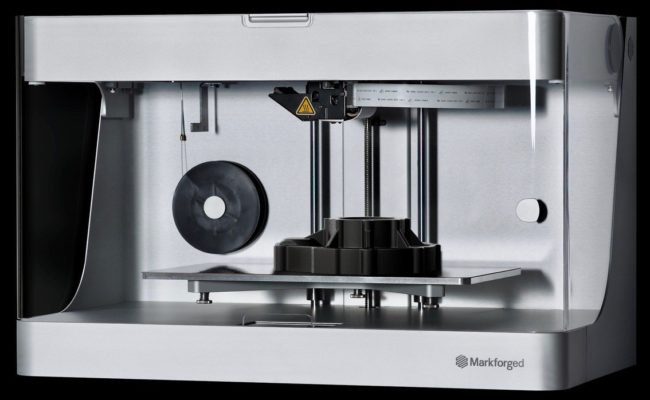 MARKFORGED
MARK TWO
Revolutionary 3D printer designed for industrial experts
A more advanced 3D printer to print high strength and smooth finish 3D parts. Markforged Mark Two is a comprehensive 3D printer for printing tough and stunning 3D parts. The Markforged's Mark Two is the world's first 3D printer designed to overcome the strength restraints and provide you end-use strength parts in hours. Mark Two is a type of printer dedicated to excellence.
The Markforged Mark Two 3D printer is the final line of desktop series. This is the best 3D printer in the lineup that supports a wide range of composite print materials, providing optimum strength to 3D printed parts.
The material used by mark two 3D printing machine is fiberglass, carbon fiber, kevlar, and white nylon. The user of mark two can use different composites and leverage it to get a strong and high heat tolerant 3D printed part.
However, the base material used by Markforged mark two is onyx but, it can also use another material other than onyx which is white nylon, a stronger version of standard nylon.
The Markforged Mark Two is the great option to print incredibly strong, resilient, and industrial- grade parts that provide an expert touch to your 3D printed part.
HIGH-STRENGTH PRINTING
Markforged Mark Two prints 3D parts by supplementing your parts with composite fiber while printing them that provides five times stronger, stiffer, and multifaceted 3D printed parts than traditional ABS plastic.
RANGE OF MATERIALS
The Markforged Mark Two is the best 3D printer for printing rigid and well-constructed engineering class parts. This 3D printer can print parts with double the quality of other 3D printed plastics. Markforged Mark Two can print smoother parts with high accuracy that are best suited for industrial applications.
SIMPLE TO USE
3D printing becomes easier with Markforged 3D printing software that comes with the Mark Two. This software helps import your drawings and provides you excellent 3D printed parts.
Technical Specifications
BUILD VOLUME: 320 mm x 132 mm x 154 mm
Z LAYER RESOLUTION: 100 micron
INCLUDED WITH PRINTER: Mark Two 3D printer and dry box along with access to cloud Eiger software, 800cc Onyx spool, 100cc Carbon Fiber, 50cc Fiberglass, 50cc Kevlar, 50cc HSHT Fiberglass, 1 TrueBed print bed
3D printing with composite fiber is as much about the software as it is about the unique technology of the printers. The Markforged Eiger 3D printing software is both powerful and easy to use in your browser, importing your drawing and slicing it for high strength printing.
1. Onyx – Onyx is a material that helps print strong and accurate parts. Onyx is a material that can reinforce any continuous fiber. The onyx 3D printed parts provide high quality with a smooth surface finish that can tolerate heat.
2. Carbon fiber – Carbon fiber is light in weight and strong material used to print lightweight 3D printed parts.
3. Fiber Glass – Fiber Glass is a comparable material as carbon fiber. The only problem with fiberglass is that it is heavy. So, it may not be a better option for the people who want lightweight 3D printed parts.
4. Kevlar – Kevlar is synthetic fiber which is strong and heat resistant. Kevlar adds strength and stiffness to 3D printed products.