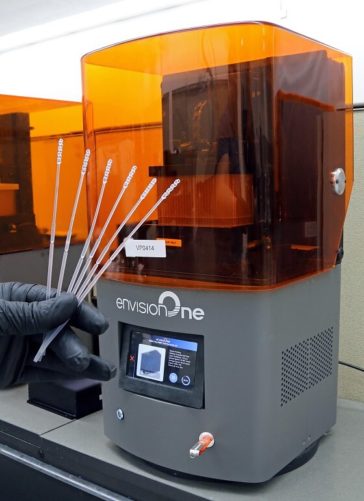 How Envision One is printing Nasal Swabs
What makes the EnvisionTEC NP swab the most desirable swab:
•The swab has the most flexibility and softness of the tip. You can bend the collection tip 180 degrees without breaking This makes it extremely safe
• The material is made by EnvisionTEC so full optimization of the print process and a reliable supply chain of machine material and process
• The EnvisionTECNP swab on a 100 patient clinical study at HARVARD BIDMC performed better than all other 3D printed swabs in terms of patient experience
• The EnvisionTECNP swab is the only swab that can be steam sterilized at the standard 270 degrees F temperature without degradation in mechanical properties as others do.
• E-Guide Soft C-29C resin is noncytotoxic, not a sensitizer, non-irritating and complies with ISO 10993-1:2018.
• The resin is a Class I Medical Device as defined by regulatory bodies in the US
Equipment to fight covid-19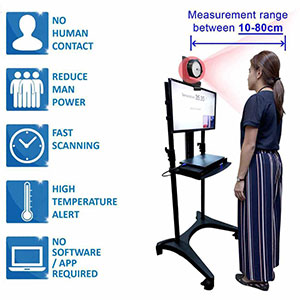 SANITEMP X110

(A 3-In-One Device For Temperature and Sanitizing)
We live in times where personal hygiene and temperature checks have become the norm. The process however sometimes can be quite intrusive using SANITEMP makes it so much simpler
Most systems, only come with either a temperature or a hand sanitizing station, our solution is to combine all 3 elements into a single and modular system. The other problem is that usually it is very difficult to transport these systems around, many are bulky and require dedicated power supply.
See how this system works in the video link
CleanTech® – The World's Only Fully Automated Hand Washing Technology
CleanTech® is a fully automated 12-second hand wash technology, using the patented formulation of UltraPure Hand Hygiene Solution which is clinically validated to eliminate 99.9% of dangerous pathogens. Our systems are eco-friendly, energy efficient, easy to install and maintain.
CleanTech® has been invented, developed, manufactured and perfected over a period of over two decades of research and experience by Meritech Inc. USA. The products of CleanTech® are CDC, USDA and FDA approved and are used by leading hospitality brands, food service, restaurants and retail outlets, in over 50 countries all over the world.
See how this system works in the video link
Dexter® from Haddington Dynamics – Remote Control

Dexter is a light industrial, collaborative robot. Up to 3kg payload, unlimited end effectors, Better than human touch sensitivity.
During this tough time, we see that medical supplies are in a shortage. Dexter has remote use capabilities that allow users to control another robot in another physical location, eliminating physical contact.
See how this system works in the video link
You have the IDEA! We have the Resources!
Collaborate with us and share your design idea or concept with our team and will work together to make it into reality.
Despite working at home, our 3D machines are at your service 24/7.
Let work together to keep everyone safe at all times #SGUnited #onesg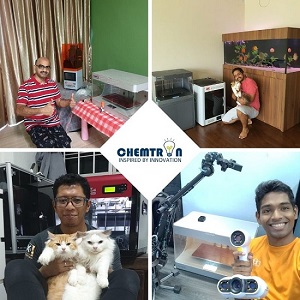 Chemtron can provide you customized solutions for fighting Covid-19 battle, using the power of 3D printing.
For more product information, demonstration, and price inquiries