Scan, Spin And Selectively Photocure
With the all-new approach to 3D printing, the 3SP family of 3D printers delivers high accuracy, reliability, and speed continually in every print. These 3D printers are professional at printing a wide range of manufacturing objects, from functional gears, valves, and pumps to fasteners, jigs, fixtures, or end effectors. 3SP family is highly recommended 3D printers for producing customized products that can be used in the dental industry. 3SP series can also 3D print tooling for thermoplastic injection modeling.
Chemtron is one of the most established EnvisionTEC 3D printer distributor in the region.
For more product information, demonstration, and price inquiries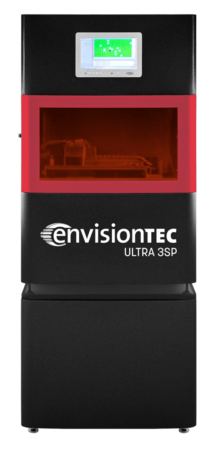 A great manufacturing option for a wide variety of consumer and automotive applications, the ULTRA 3SP provides 100 µm (0.004 in.) resolution and a build size of up to 9013 cubic cm (550 cubic in).
The Vector 3SP provides excellent surface finish and speed with a build size of up to 30,316 cubic cm (1850 cubic in.) to produce everything from concept models to functional parts in 100 µm (0.004 in.) resolution.