The Leader of 3D Bioprinting universe
Cellink provides 3D bioprinting systems that are both easy and open to use, enabling the researchers to 3D print liver, cartilage, skin tissues, and more for applications that span industries, from pharmaceutical to cosmetic, and clinical operations. Cellink is pushing the boundaries of 3D bioprinting by introducing the most advanced technology in the medical field. The innovative patent-pending bioink is a biomaterial developed by Cellink that allows human cells to grow and thrive as they would in their natural environment. Cellink aims at empowering healthcare professionals with better tools that can print limitless 3D bio parts with excellent accuracy in a clean and safe environment.
Cellink has developed a bioink that suits a wide range of bioprinters. CELLINK® Bioink combines the advantages of shear-thinning nano fibrillar cellulose and the versatility of alginate. Cellink has developed these two-component under stringent quality control and assurance procedures to give the researcher that same consistency and quality in every 3D bioprinting.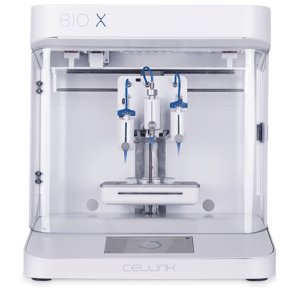 Cellink Bio X 3D Bioprinter
BIO X is the new go-to bioprinter for life science companies, researchers, and innovators who work with bioprinting. Built to meet the needs of today's bio-scientists, BIO X's responsive Neocortex M1 internal computer coupled with HeartOS, the most powerful bioprinting operating system out there, allows the user to orchestrate the intricate process of building human tissues. BIO X is the most user-friendly bioprinter on the market and a completely standalone product.
INKREDIBLE+ 3D Bioprinter
Robust and reliable, the INKREDIBLE+ 3D Bioprinter is the only true benchtop bioprinter on the market. The newly optimized benchtop bioprinter is perfect for the ultimate bioprinting of human tissues and tissue models for 3D culture in today's ever more advanced research applications. With the INKREDIBLE 3D Bioprinter on your lab, you'll see a dramatic increase in your research productivity in a wide range of applications with unrivaled support as a benefit.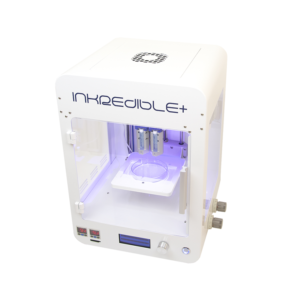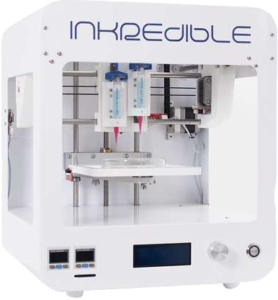 INKREDIBLE 3D Bioprinter
The INKREDIBLE 3D bioprinter is a pneumatic-based extrusion bioprinter with dual print heads and UV LED curing systems for bioprinting of complex human tissue models and organs for tissue engineering research. It is a cost-effective unit for innovators to enter the 3D bioprinting field and start bioprinting living tissues at ease.
LOOKING FOR MORE INFORMATION?
Visit our Resource Center and view technical documents, videos, white papers, case studies and more.