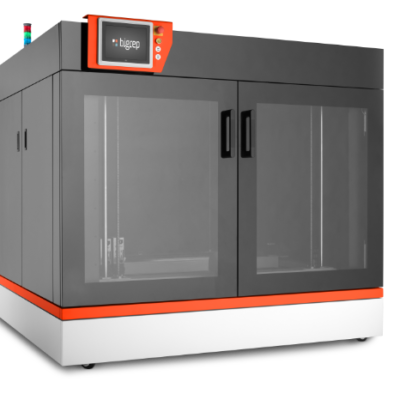 BIGREP
PRO
An Industrial 3D Printer for Professional Prints
The Bigrep Pro is recognized by The German Brand Award 2018, The German Innovation Award 2018, and The German Design Award 2016. This printer was introduced to provide speed and precision to additive manufacturing solutions. Bigrep Pro provides you a one-stop solution for all your large scale 3D printing requirements.
Equipped with the latest technology such as state-of-the-art Bosch CNC system, new Metering Extruder Technology (MXT®), an enclosed build chamber and temperature-controlled filament chamber, Bigrep Pro lets you print end-use- product with improved accuracy and responsiveness.
Technical Specifications
Build volume: x 1080 y 980 z 960 (mm)
Layer height resolution: 0.1 mm – 0.6 mm
Max. Extruder Throughput with 1 mm nozzle: MXT: 220 cm³/h, ACE: 115cm³/h
Nozzle temperature: MXT: 300 °C, ACE: 280 °C
Extruder: Dual extrusion, MXT and/or ACE (1.0 mm nozzle)
Printing technology: FFF – Fused-Filament-Fabrication (Material Extrusion)
Certified BigRep materials: PA6/66, ProHT, PLA, PETG, More engineering materials in development: ASA, PA-CF, PET-CF, PMMA, TPU
Support materials: Soluble and Breakaway
Print bed temperature: Max. 99 °C
Printer weight: Approx. 1550 kg
Size: x 1950 y 2430 z 1790 (mm) – (Without towerlight)
Power: 3 X AC 400 V, 50/60 Hz, 5100 W
Safety certifications: CE
Chemtron is one of the most established BigRep 3D printers distributor in the region.
For more product information, demonstration, and price inquiries
Fill out the form and we'll get back to you as soon as possible.
LARGE-SCALE & GERMAN ENGINEERED
Inspired by Bigrep One and Bigrep Studio, the Bigrep Pro is an award-winning professional 3D printer for printing large scale objects with improved quality and perfection. The Bigrep Pro takes 3D printing of large objects to the next level.
Interested in learning more about BigRep 3D Printers?
Fill out this form and we'll give you an overview of 3D printing technology, discuss potential applications, and help you determine where 3D printing fits in your business.