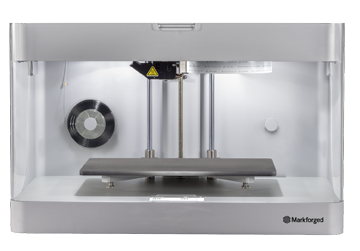 THE MARK TWO
High-Strength Printing
The Mark Two combines Markforged's unique continuous carbon fiber reinforcement with workhorse reliability for the strongest, most versatile parts in our portfolio. It is the only printer in the industry that enables you to go from CAD to beautiful, end-use strong parts in hours.
With your choice of reinforcement and plastics, remove the time, hassle and design iterations and put your parts to use right off the printer engineered with the right material for any job.
High-Strength Printing
By reinforcing your parts with composite fiber while 3D printing them, The Mark Two achieves unparalleled strength, stiffness and durability in its printed parts.
Range of Materials
In addition to printing Onyx, the Mark Two prints materials that no other 3D printer can, like Carbon Fiber, Fiberglass and Kevlar.
Easy-To-Use
We built our own 3D printing software that comes with The Mark Two. Printing a part to be flexible or strong is easy and intuitive.
Technical Specifications
Industrial grade performance starts with an all-aluminum unibody enclosure built around an ultra flat gantry system.  Add a machined aluminum stage with kinematic bed coupling, and a precision ground print platform. The Onyx One combines industrial quality with affordability.
Footprint: 584mm 

x

 330 mm 

x

 355 mm
Build Volume: 

320

 mm 

x

 

132

 mm 

x

 

154

 mm
ONYX
Onyx yields stiff, strong, and accurate parts. Already 1.4 times stronger and stiffer than ABS, Onyx can be reinforced with any continuous fiber. Onyx sets the bar for surface finish, chemical resistivity, and heat tolerance.
Carbon Fiber, Fiber Glass, HSHT Fiberglass, Kevlar
Continuous Filament Fabrication
Formed from the combination of two materials, composite parts are incredibly strong and versatile. Our unique fabrication process enables you to print parts that are an order of magnitude stiffer and stronger than typical 3D printed objects.
SOFTWARE
With automatic version control, real-time fleet management and cloud-based collaboration, Eiger is the world's most advanced 3D printing software. Designed from the ground up to make manufacturing simpler, Eiger enables you to print plastic, metal and composite parts straight from your browser.
Mark Forged 3D Industrial Strength Printer –  Print parts with the strength of metal!